January Construction Update from BEIS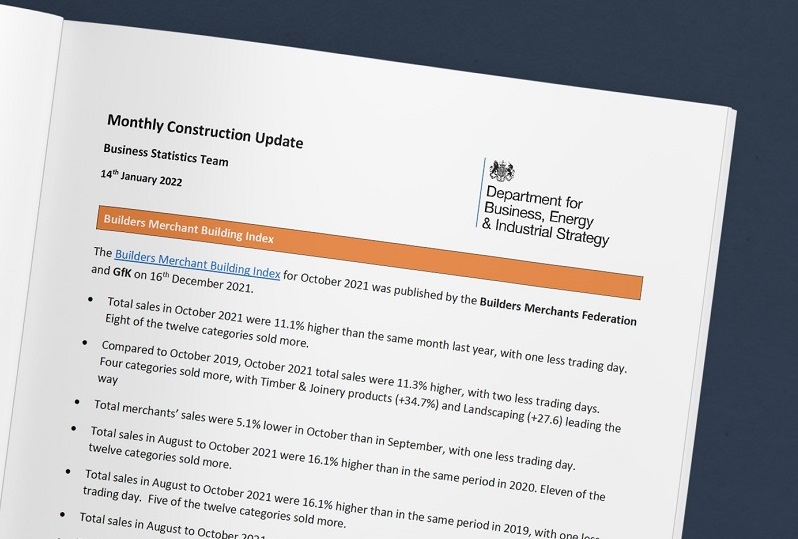 The latest Monthly Construction Update from the Department for Business, Energy & Industrial Strategy (BEIS), which uses the Builders Merchant Building Index (BMBI) as one its sources, is now available.
Monthly construction output increased by 3.5% in volume terms in November 2021 – the largest monthly rise in monthly growth seen since March 2021. New work increased by 5.7% in the month, while repair and maintenance declined by 0.2%.
The survey suggested the main reasons for the increase were strong demand for work in combination with supply chain bottlenecks easing slightly, and the unseasonal mild and dry weather.
While new work output remains lower than before the pandemic hit (-1.6%), repair & maintenance work was 6.9% (£345 million) above its February 2020 level.
Compared to the same month last year, construction output was up significantly (+6.8%), with both new work and repair and maintenance more than 5% higher than November 2020.
The IHS Markit CIPS construction purchasing managers index for December indicated an increase in construction activity, but at a lower rate than previously. The Total Activity Index registered 54.3 in December, up from 55.5 in November. Residential construction activity saw the strongest growth, while recovery in the commercial building segment eased to its lowest since September 2021.
The latest Monthly Statistics of Building Materials and Components were published by BEIS on 12th January. It shows that the material price index for 'All Work' increased by 22.7% in November 2021 compared to November 2020, and was unchanged compared to October 2021.
The latest BMBI report for October 2021 confirmed merchants' sales were 11.1% higher in October than in the same month the year before, with eight of twelve categories performing above October 2020. Month-on-month, October sales were down 5.1% on September 2021.
As well as the figures above, the update includes an assessment of the impact of Covid-19 and the 'Business insights and impact on the UK economy' publication, which is based on responses from the voluntary fortnightly business survey (BICS), and construction sector forecasts by Experian and by the Construction Products Association.
The January update also includes the headlines from the Bank of England Agents' Summary of Business Conditions report, statistics on the furlough scheme – which has now ended – from HMRC, as well as forecasts from the OECD's latest economic outlook.
To download the latest BEIS Monthly Construction Update click here