Leading Lights 2021: Merchants' Views on Big Industry Issues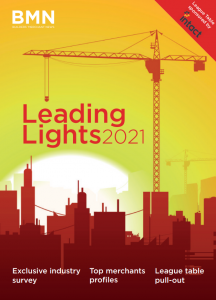 For this years' Leading Lights, published by Builders' Merchants News, MRA Research spoke to builders' merchants and BMBI Experts for their views on industry issues and the main challenges and opportunities in 2021.
A lot has happened since last year's Leading Lights. When that research was done at the beginning of March 2020, we were about to step into the unknown.
Twelve months on, the UK is emerging from a third national lockdown with confidence built on the most successful vaccination programme in Europe. According to the Bank of England, we're also on course to see £250bn in consumer bank accounts by mid-year, and it's itching to be let out. No wonder confidence is bouncing back, and forecasts are on the up.
It's been a year of constant learning and adjustment to the new normal as merchants dived into digital and changed their traditional ways of working to adapt to a rapidly evolving market. Working with Covid restrictions and managing staff and teams to work safely and effectively is the new reality.
With Covid dominating headlines and priorities, Brexit got done, and other industry issues were dealt with or discarded (Green Homes Grant!). Merchant confidence is high, driven by the successful vaccine rollout and the Government's plans to steer us out of lockdown.
Putting Covid aside, a significant legacy from Brexit will be product testing and certification as CE marking is replaced with the new UKCA mark at the end of the year. The implications for manufacturers and the knock-on for merchants and their customers have yet to be realised. The Government needs to press on with key infrastructure and housing projects to meet its targets. And then there's Grenfell! As the Inquiry's grim revelations continue and the industry starts adjusting to the challenge of new building codes and new behaviours we are all on a journey to build more safely.
The survey was conducted and produced by MRA Research exclusively for Builders' Merchants News Leading Lights in March 2021.
Download the Merchants' Views report
As well as the Merchants' Views report, we also asked BMBI experts to comment. Their views can be found in a separate report, which can be downloaded from the BMBI website.
You can read the full Leading Lights supplement on BMN's website here.