Builders' merchants' sales fall in Q3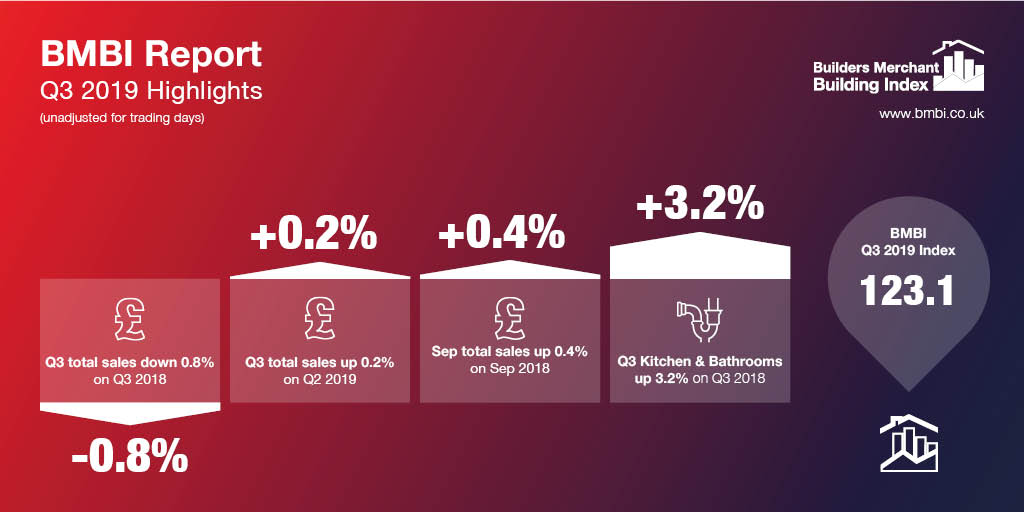 Total Builders' Merchants' value sales in Q3 2019 were down -0.8% against the same period last year. The adjusted figure, which takes into account the difference in trading days, was down -2.3% compared with Q3 2018. Following a relatively buoyant July, sales fell substantially in August year-on-year, before recovering in September.
Value sales of Heavy Building Materials (the largest category) declined marginally by -0.4% year-on-year, while Timber & Joinery sales were down by -4.7% over the same period. Kitchens & Bathrooms was among the strongest categories with growth of 3.2% in Q3.
Compared with Q2 2019, Total Builders' Merchants' sales were up marginally by +0.2%. However, when adjusted for the four additional trading days in Q3, the figures showed a decline in sales of -6.0%, marking the second consecutive quarter of negative growth. Merchants' sales of both Heavy Building Materials (-5.5%) and Timber & Joinery (-6.5%) fell significantly quarter-on-quarter.
The third quarter total BMBI index was 123.1, while September's BMBI index was 118.9, with Landscaping (125.3) the top performing category.
About the BMBI
Produced by MRA Marketing, the Builders Merchant Building Index report contains data from GfK's Builders Merchants Panel, which analyses data from over 80 of generalist builders' merchants' sales throughout Great Britain. The full report with index tables and charts is available to download at www.bmbi.co.uk/.