August Construction Update from BEIS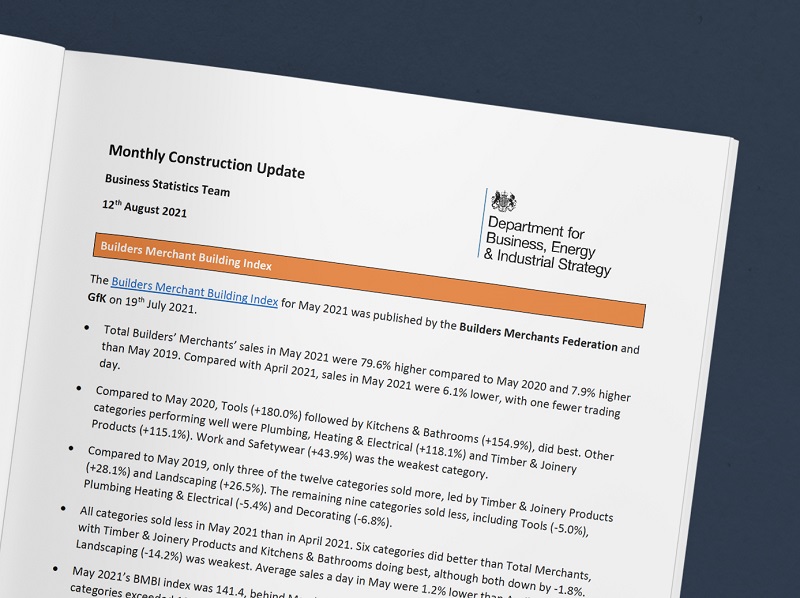 The latest Monthly Construction Update from the Department for Business, Energy & Industrial Strategy (BEIS), which uses the Builders Merchant Building Index (BMBI) as one its sources, is now available.
This month's construction update confirms monthly construction output fell by 1.3% in June 2021, because of a decline of 4.2% in repair and maintenance work. This was offset somewhat by a small increase in new work (0.5%). However, repair and maintenance output remains 3.1% above the February 2020 (pre-pandemic) level.
In contrast to the monthly fall, quarterly construction output grew by 3.3% in Quarter 2 2021 compared with Quarter 1 2021; both new work and repair and maintenance saw increases.
The figures also show that the annual rate of construction output price growth was 3.4% in June 2021; the strongest annual rate of construction output price growth since August 2019.
The IHS Markit CIPS construction purchasing managers index for July indicated that UK construction output has lost some momentum with the latest PMI data signalling the slowest overall increase in construction output since February. The Total Activity Index registered 58.7 in July, down sharply from June's 24-year high of 66.3.
The OECD updated its Economic Outlook in May 2021, in which it projects UK GDP will grow by 7.2% in 2021 and by 5.5% in 2022.
The latest BMBI report confirms the construction industry saw a less buoyant May, following record breaking growth in March and a strong April. The May index was, however, still strong at 141.4. Nine of the 12 categories saw growth, with Landscaping and Timber & Joinery showing a particularly strong performance.
As well as the figures above, the update includes an assessment of the impact of Covid-19 and the 'Business insights and impact on the UK economy' publication, which is based on responses from the voluntary fortnightly business survey (BICS), and construction sector forecasts by Experian and by the Construction Products Association.
The August update also includes statistics on the furlough scheme from HMRC, as well as highlights from the latest Monthly Statistics of Building Materials and Components report.
To download the latest BEIS Monthly Construction Update click here