Are you prepared for Brexit?
With only six weeks to go before the 12-month Brexit transition period expires and the EU's rules and regulations cease to apply, a no-deal Brexit looks a definite possibility.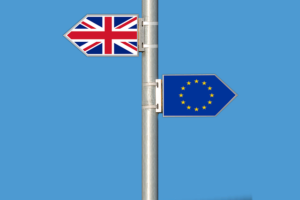 To help businesses in the construction sector, the government recently drew up a list of important actions the industry needs to check in order to get ready for 1 January 2021. The advice includes reading up on new immigration policies and visa requirements, as well as finding out about tariffs and border formalities for exporting and importing goods.
The full checklist is outlined below this article, but of course, there is a lot more to Brexit than what's on the government's top five list, and there are many other organisations who provide useful advice and support for businesses in the construction sector.
Last week, RIBA and Arb issued a joint statement warning architects not to let Covid-19 overshadow the impact of the end of the UK's transition period with the EU, and also asked practices to get to grips with new rules on mutual recognition of professional qualifications and construction material imports as well as other industry issues ahead of 31 December. Around 20% of architects working in the UK are thought to come from the EU, and the EU is the second largest market for the export of UK architectural services worldwide. More advice for specifiers can be found on RIBA's Brexit Hub on their website.
Amid concerns around falling behind on standards for building products after Brexit, housing minister Christopher Pincher said last week, during a Commons debate on building product standards, that the government is committed to maintaining the highest standard for construction products, and that it is bringing through legislation that will see the UK equal or better than the EU product regulations. This was to address the worry that EU and UK regulations will diverge in future, which could cause issues for manufacturers and other businesses importing or exporting products.
Regardless of a deal, one important effect of post-Brexit change is the new trademark, UKCA (UK Conformity Assessed). By the 31st December 2021, all products sold in the construction sector will require this mark, rather than the previous European CE mark. After 1st January 2022 products showing only CE marks entering the general marketplace will not conform to standard. The new UKCA is currently not recognised in Europe as a legal standard.
More information about construction products and how Brexit is likely to impact on manufacturers can be found on the Brexit section on the Construction Products Association's website. According to the Monthly Statistics of Building Materials and Components dataset,  around 60% of the construction materials used on UK projects are imported from the EU.
Another likely effect, at least in the immediate period after a no-deal Brexit, is on the value of Sterling against other currencies, which in combination with potential administration costs could lead to imported products costing more. There could also be other impacts on the economy, potentially both positive and negative in the longer term.
The CPA produces industry forecasts for the construction sector, based on different economic scenarios. They also recently conducted a survey of their members' readiness for Brexit to identify if any possible shortages of products, raw materials, components, parts or equipment are likely to occur due to Brexit. The results are available on CPA's website.
Glenigan recently hosted an online presentation of their latest industry forecast report, which also featured an interesting discussion around the potential implications of Brexit.
In August, the Construction Leadership Council launched a Brexit Working Group in order to prepare the industry for leaving the EU. Its website, though not the easiest to navigate, is regularly updated with guidance on topics such as data protection, the movement of goods & materials, the movement of people, and conformity marking.
The Builders Merchants Federation (BMF) provides advice for distributors of building products on its website's Brexit Hub as well as forecasts for the merchant sector, while the Builders Merchants Building Index (BMBI), a joint enterprise between GfK, the Builders Merchants Federation (BMF) and MRA, provides further insight and views on the potential impact on the merchant sector through a range of surveys and round table debates with sector experts.
For builders, the National Federation of Builders (NFB) provides a useful resource on its website which features an unnerving second by second countdown clock to Brexit, alongside practical advice for building contractors in the leadup to the 31 December. Its report 'Deal or No Deal – Issues arising for the UK Construction Industry From Brexit' which was published in October 2020 is a comprehensive guide to actions with regards to three areas; supply chains, labour and contracts.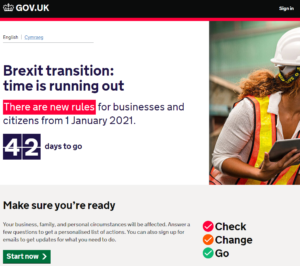 Finally, the Designing Buildings Wiki has compiled a range of information sources and factual articles about Brexit. There you can read Brexit related advice by organisations including Institution of Civil Engineers, BRE, BSRIA, CIOB and the ECA, and even add your own content.
There is no longer time to wait for the government to tell us what the deal is; in the absence of any clarity as the final countdown begins, the industry will have to try and be as prepared as possible for every eventuality. The time for speculating (or arguing) over whether it will be better or worse for the UK has passed, it's time to take action. To take the view that nothing will change is naive.
The government's advice for the construction sector is below, but you can also download it here. Further advice for both businesses and individuals can also be accessed on its website Brexit transition: time is running out.
THE UK GOVERNMENT'S ADVICE FOR THE CONSTRUCTION SECTOR
1. Comply with the new immigration policies for recruiting from overseas
From January 2021, free movement with the EU will end and we will introduce a points-based system specific to the UK. EU and non-EU citizens will be treated equally and will need to meet certain requirements to work in the UK. If you want to recruit workers from outside the UK from 1 January 2021, you will need to apply to be a visa sponsor.
To find out how to comply with the new system as an employer visit: https://www.gov.uk/government/publications/uk-points-based-immigration-system-employer-information
2. Check if a visa or work permit is required to travel to the EU for work purposes and apply if necessary
From January 2021, travel to the EU for work purposes may require a visa or work permit – this is regardless of if you are employed in the private, public or third sector. Depending on the nature of your work and the country you are travelling to, additional documents may also be required. For more information, visit: https://www.gov.uk/visit-europe-1-january-2021
3. Look up information on overseas tariffs, rules and border formalities for trading your goods worldwide
From January 2021, there will be new requirements for how you export goods from the UK. Use the 'Check How to Export Goods' service on GOV.UK to check duties and customs procedures for exporting your goods worldwide. Use the service at: https://www.gov.uk/check-duties-customs-exporting.
4. Check if Import VAT is due at the border
From January 2021, if you import any goods from the EU into Great Britain you may need to pay Import VAT
Import VAT will not be due at the border if goods in a consignment are worth less than £135. The only exception to this is consignments containing excise goods, where Import VAT (along with Excise and Customs duties where applicable) will be due at the border. For more information go to www.gov.uk/government/publications/changes-to-vat-treatment-of-overseas-goods-sold-to-customers-from-1-january-2021
5. Apply due diligence to export/import timber from UK to EU to meet legal harvest requirements
From 1 January 2021, you may need to prove any timber you import or export timber between the UK and EU/EEA has been legally harvested. Due diligence checks will be required if you import timber from the EU and EEA, and documentation about the source and legality of your timber will be required for exporting timber to the EU or EEA. More information is available at: https://www.gov.uk/guidance/trading-timber-imports-and-exports-if-theres-no-brexit-deal